Macoupin County IL Virden Tigers Football Team 1917
©1996



Virden Tigers Football Team 1917
donated by
Wanda Mayernick Bober

"My Father played on this team while employed as a coal miner in the Virden area. It is my understanding that the team was sponsored by one of the mining companies, and most if not all of the players were miners from the area. My Father was Joseph M. Mayernick (listed on picture as M. Mayernick) He played center on the team and was born and raised in Virden."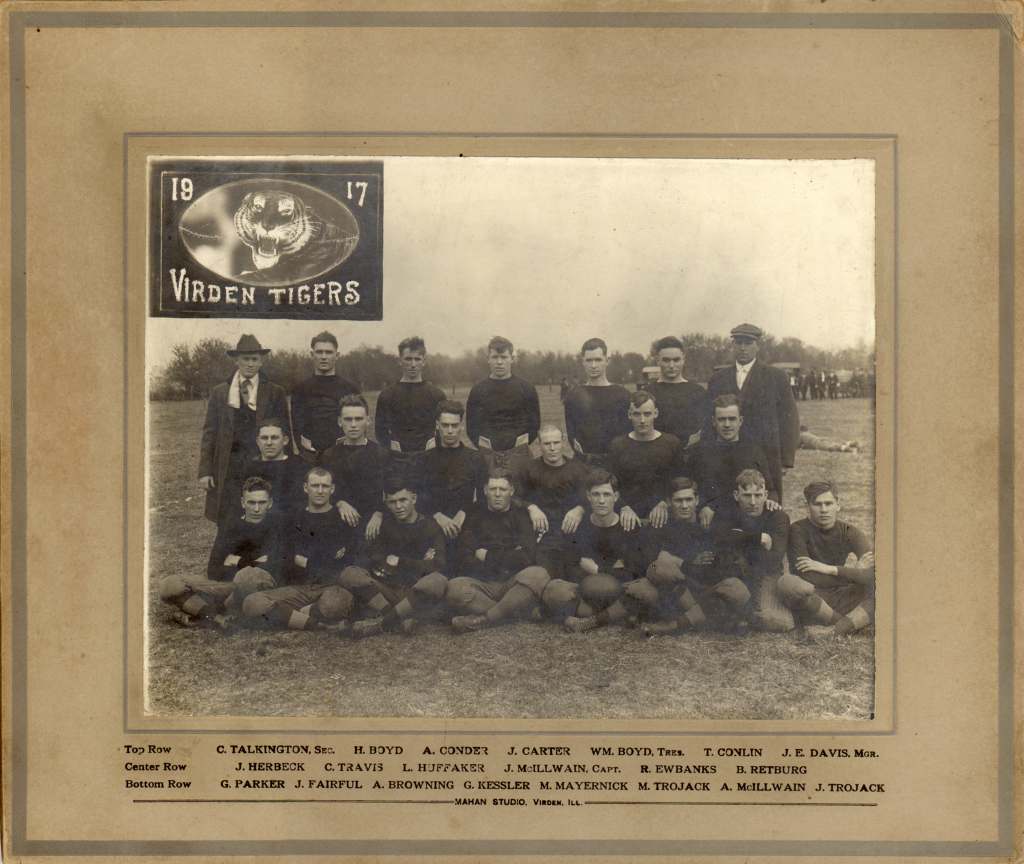 Wanda Mayernick Bober. All rights reserved



Search engines won't find names on pictures so I am listing again here:
Top Row: C. TALKINGTON, Sec., H. BOYD, A. CONDER, J. CARTER, WM. BOYD, Tres., T. CONLIN, J.E. DAVIS, Mgr.
Center Row: J. HERBECK, C. TRAVIS, L. HUFFAKER, J. MCILLWAIN, Capt., R. EWBANKS, B. RETBURG
Bottom Row: G. PARKER, J. FAIRFUL, A. BROWNING, G. KESSLER, M. MAYERNICK, M TROJACK, A. MCILLWAIN, J. TROJACK

The full size picture has a lot of detail on it. If you want a copy of the larger by attachment to an email, contact the county coordinator.







Photo Pages Index
Macoupin County Homepage
County Coordinator
©1996-2018 ILGenWeb. All rights reserved.
Copyright of submitted items belongs to those responsible for their authorship or creation unless otherwise assigned.
Any commercial use or any use for which money is asked or paid for any reason is strictly prohibited.